Hiring a Laser Show - Costs
Laser shows can be costly to produce for a number of reasons. Costs vary from company to company and also from show to show. This page discusses some of the cost factors that will affect your show.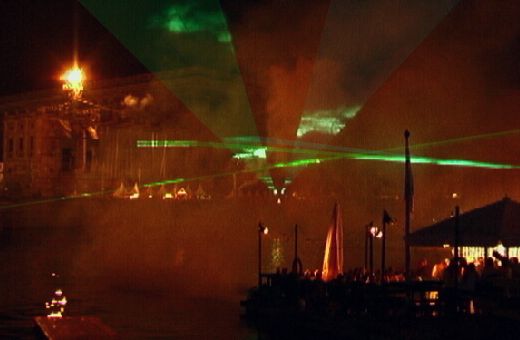 Part of the spectacular finale from Urström by Obscura Magica at the 1999 Stockholm Water Festival. This show used two high power full colour laser graphics systems with stereoscopic 3D laser images, two high power laser beam effects systems, fire effects, smoke effects, Pani projections and a specially composed musical score for it's 10 day run. While it was costly to produce, with an estimated 300,000 spectators, the cost per person was very reasonable - Photo by L. Michael Roberts
The rates you will pay for a laser production will vary widely due to many factors. LaserFX.com is not in a position to give exact figures, or even example costs. What we can provide, is some insight into the cost factors involved in hiring a laser slow.
The major cost factors in production a laser show are the size and number of lasers to be used at the event. For a large scale outdoor event, high power lasers will be required while indoor shows, or shows for a small audience in a small venue, would use lower powered lasers.
The higher the power of the laser to be used for the show, the more costly the production; the more lasers used in the show, the more costly the production becomes to stage. This is because the high power equipment costs more to own and operate, and the amount of time and staff needed to set-up a multi-laser system show increases production costs.
To put things into perspective, the value of the equipment used at a large scale outdoor show may easily exceed one million US$ and may require a crew of 8 or more people to operate. Even a relatively simple dance oriented show may be using laser equipment with a value of $150,000 US$ or more, and require a crew of 2 or more people to set-up and operate.
Graphics shows
You can generally expect to pay more for a graphics show than for a beam show. This is especially true if the show is custom created and programmed from scratch for your event. The images and logos to be displayed at the show have to be digitized - a time consuming operation that may involving hiring an artist to produce the original images and then having a laserist digitize them. Once the images have been created and digitized, they must be choreographed to the musical selection you have chosen.
One method of reducing these costs is to use a customized graphics module. The laser display company may have a library of generic graphics shows that have a suitable theme and music which fits with your event. Rather than create the show from scratch, these modules can often be customized with your company logo and message so that they look like they were created just for your event - but at a significant savings over a custom show.
Beam shows
Beam shows are generally less costly to produce since the laser company will have a large library of beam effects available. Again, if the show is custom choreographed to a musical selection of your choice, it will be more expensive to create than using a generic beam effects show. Naturally, the power of the laser(s) to be used for the beam show also factors into the equation.
Other cost factors
Some other factors that will affect the cost of the laser show are:
Length of set-up and show: If your event is a corporate show that requires a set-up day, a rehearsal day and a show day, it will be more costly to produce. If the show runs for a few days, it will be more costly than a one-day show. A dance or entertainment show where the laser company can arrive in the morning, set-up and then perform the show that evening is less costly to produce.
Transportation: Depending on the type of show your are producing, you may want to hire a laser company which specializes in that type of event. They will have specialized equipment and expertise that may not be available locally. The cost of transporting the equipment and personnel to and from the company's location to your show venue must be factored into the budget. This often involves airfares for key personnel as it is sometimes impractical for them to spend days driving to the location when the time is better spent on pre-production for your show.
Accommodation: Due to the long hours involved in the set-up and alignment of the laser equipment, it is often best to house the laser crew in a hotel/motel close to the venue. This often holds true even for a local laser company as it may be more cost effective, and time efficient, to have them housed close to the site, or in the same building, rather then having to drive across town.
Meals: Your laser (and technical production) crew are hard working people and feeding them well keeps them happy and productive, which gets you a better show. Pizza or fast food may be acceptable for one meal but a proper hot meal should be provided (or paid for) at least once a day. This is especially true if your show is an awards ceremony or other event that includes a banquet for your guests - it is hardly fair to expect the technical crew to have to eat pizza backstage while your guests enjoy a 4 course dinnerl. Remember to factor the production crew into your meal head-count and budget.
[ Introduction | Staging and Production | Costs | Where to Hire a Laser Show ]