Laser Show Resources
Industry Associations
There are a number of industry associations that provide information about lasers as well as other services to their members:

International Laser Display Association (ILDA)
ILDA is the trade association for professional laserists, manufacturers and vendors of laser light show technology, and students with an interest in laser displays. ILDA has a number of committees that work on, and make recommendations about, various issues such as Planetarium Laser Shows, Ethics, Awards, Terminology, and the Technical Committee. The latter is responsible for developing industry standards and guidelines for interoperability of laser systems from different manufacturers.
ILDA sponsors an annual conference, usually held in the fall (November) of each year. The conference offers the Advanced Technology Workshop (ATW), business meetings, seminars, a trade show and the ILDA awards for excellence in laser displays - you must be a member of ILDA to attend the annual conference although some vents, such as the Awards Banquet, are open to non-members). The conferences alternate between a location in the USA in odd-numbered years, and a location outside the USA in even numbered years.
ILDA publishes "The Laserist", a glossy quarterly magazine that covers the laser display industry. The magazine if free to those who request it - there is also an on-line version with selected articles. ILDA also sponsors a list-serv for members and anyone else with an interest in Laser displays who would like to subscribe.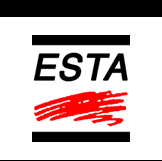 Entertainment Services & Technology Association (ESTA)
ESTA is a non-profit trade association representing the entertainment technology industry dedicated to a core mission of Building the Business of Show Business. ESTA promotes professionalism and growth in the industry and provides a forum where interested parties can come together to exchange ideas and information, create standards and recommended practices, and address issues of training and certification.

International Association of Amusement Parks and Attractions (IAAPA)
Dedicated to the preservation and prosperity of our industry, IAAPA is made up of more than 5,000 members in 91 countries across the globe. Since may amusement parks use laser, there are a nuber of laser companies that belong to IAAPA and participate in the trade show at their annual conference.

International Planetarium Society (IPS)
The International Planetarium Society (IPS) is the largest organization of professional planetarians in the world. It is made up of members from nearly every continent, and has nearly 20 smaller affiliate organizations associated with it. Planetariums are a popular venue for laser shows.

The Professional Light and Sound Association (PLASA)
The Professional Light and Sound Association is a long-established trade association representing over 440 members within the entertainment technology industry worldwide. The association focuses mainly on companies located in the European Union although international members are welcome (but don't get to vote). Some laser manufacturers and vendors belong to this association.
DISCLAIMER: Some of the information in the Backstage area is provided by the persons or companies named on the relevant page(s). Laser F/X does NOT endorse or recommend any products/services and is NOT responsible for the technical accuracy of the information provided. We provide this information as a service to laserists using the Backstage area.
[ Introduction | Industry Associations | Selected Links | Publications]