Information and Education - Introduction
LaserFX.com provides information about laser light shows and laser technology for the general public and for laser professionals, experimenters and hobbyists mainly through our website. This topic in our general area provides access to information and resources provided by www.LaserFX.com as follows:
Newsletter: General information about the newsletter and the types of articles and information available on-line.

Handbook: Information on Laser F/X: The Light Show handbook including contents and ordering information.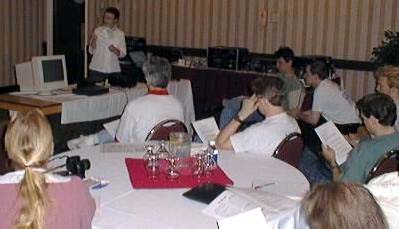 A seminar at Laser F/X: The Light Show Conference
Conference: Information on the annual Laser F/X: The Light Show conference which is open to anyone who would like to attend.

Brewster Awards: The Brewster Awards Hall of Fame listing prior winners of Brewster Awards.

Selected Links: Links to web sites that may be of interest to the general public and laser fans, including some links to articles of general interest our Backstage area.
[ Introduction | Newsletter | Handbook | Conference | Brewster Awards | Selected Links ]