How Laser Shows Work - Introduction
Laser shows are complex, expensive, fragile, high-tech systems filled with precision optical components. Here we will give a brief and basic explanation of how laser display systems produce the exciting effects we all love.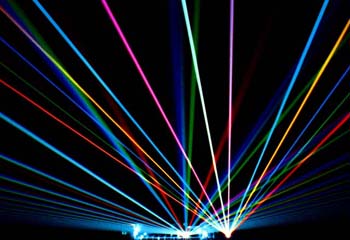 An array of colourful beams - Photo by L. Michael Roberts
Lasers can also be dangerous if improperly used. The greatest danger is from beams projected into the eye. These can be focused by the lens (in the eye) into a very small and powerful spot capable of burning the retina and blinding people. If you are planning to experiment with lasers, we urge you to read the Laser Safety pages.
If you are not familiar with the terms used here, please see the Glossary in the Laser Science Projects section.
Classification of light show effects
Laser effects for displays and light shows can be divided into two main categories; beam effects and screen effects.
Beam Effects:
Beam effects are the effects created by the laser beam itself traveling through the air towards or over the viewers. Beam effects include:

Static beams. These are beams that do not move but are switched on and off (with and without bounce mirrors). Static beams are typically generated from a beam table. Static beams can be the most dangerous type of laser effects and must be separated from the audience to prevent contact with the viewers.
Dynamic (scanned) beam effects. These are beams that move rather than just turning on and off (such as the fans shown in the photo). Dynamic beam effects are generated by X-Y scanning systems and include fans of beams, beam sequences, sheets of light, cones and tunnels of beams and some moving diffraction grating effects.


Scanned beam effects from a laser show in a night-club - Photo by L. Michael Roberts
Screen effects:

Projected abstract spiral
Photo courtesy of Pangolin Laser Systems
Screen effects are projected laser effects that require a screen (or other surface) to make them visible. They can be projected onto screens, planetarium domes, walls, buildings, billboards, the sides of mountains and even (under optimum conditions) clouds.
Examples of screen effects include graphics and animations, cycloids, abstracts, lumia, diffraction gratings and other projected optical effects.
Laser display sub-systems
There are six major sub-systems in a laser light show;
Laser and exciter (laser power supply);

Laser projector (containing colour control, beam table and scanning sub-systems);

Scanners;

Control console;

Laser Graphics system;

Outboard equipment.
In addition there may be additional equipment such as screens or scrims, power distribution systems, scaffolding and water pumps.
Clicking on a part of the system in the diagram below will take you to a page that will give you more detailed information with pictures of the equipment. There are also links on each page to our sponsors who manufacture the equipment and systems used in laser shows.
[ Laser and exciter | Projector | Scanners | Control console | Graphics system | Outboard Equipment ]