Laser F/X On-line Newsletter

A Virtual Visit to MediaLas

Located in the small and charming German town of Hechingen, complete with an old castle perched atop the mountain overlooking the town, is MediaLas Laserproducts GmbH a manufacturer of laser components and complete laser systems.
Our visit started at the Stuttgart Hbf [main railway station] where our host, Dirk Baur, and his charming wife picked us up from the ICE train station in a Mercedes. As we sped along the autobahn at speeds up to 220 Km/h, we discussed the current sate of the industry and new product development at MediaLas.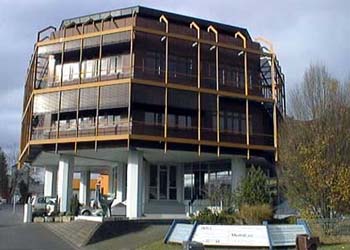 MediaLas world headquarters

The company originated when Dirk Baur started ES Lasersystems in 1989 as a laser show production company producing and performing laser shows for the corporate and entertainment market. In 1997, the company joined forces with MediaLas to from MediaLas GmbH and shifted its focus from show production to manufacturing. MediaLas now occupies the ground floor of a large modern building, which includes administrative offices, showroom, demo-room, workshops, manufacturing facilities, and electronics shop. There is also a seminar room and cafeteria in the building which is shared with other companies.
Left: The Building lobby and reception area, Right: The entrance way to the MediaLas offices and showroom.
MediaLas offers an extensive line of laser hardware and software for the professional laserst. Perhaps their best-known product is the Catweazle scanners which were born out of a desire to create a low cost, yet high quality scanning system. The scanners were initially introduced as 18K PPS but with further research and development we soon doing the ILDA 30K standard scanning speed. This innovation in scanning systems won MediaLas the 1997 and 1998 technical award for outstanding laser technology.
MediaLas has designed a number of packaged laser systems based on these scanners. The objective was to create a series of small, lightweight, laser diode powered systems for various applications including advertising and point of sale displays. The units are available in a projector only format for control by an external graphics computer, or with built in computer. There is even a model with built in non-volatile memory and processor that allows users to download images created on another system for later playback.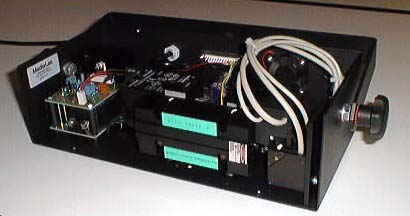 One of the MediaLas packaged laser projectors with Catweazle scanners on the right, a DPSS 532 module to it's left, power supply and controller for the DPSS laser at the far left and scanner drive board with PSU in the background.
Another of MediaLas technical achievements is the CatSafe board. This is the first commercially available safety board designed to continuously monitor the position of the scanners in real time and shut off the signals to the PCAOM in the event of a scan failure. The board even offers an adjustable "window" so that static beams can be scanned into safe areas for targeting mirrors and effects. The new CatSafePro model comes with connectors on the board that easily allow it to integrate with Cambridge scanners and popular PCAOMs.
MediaLas has also designed a special MicroAmp to drive the popular Cambridge scanners. Small enough to fit in the palm of your hand, it offers all of the features of the standard CTI amps but in a very compact space making smaller projectors a reality. MediaLas also offers a full line of beam steering optics and fiber optic launchers and output coliminators.
Left: Showcase of award winning products in the showroom. Right:

The MediaLas showroom includes life size replicas of characters from Star Trek!
I was given a guided tour of the spacious facilities. They include a large showroom with MediaLas products and equipment on display next to the administrative offices in the front of the building.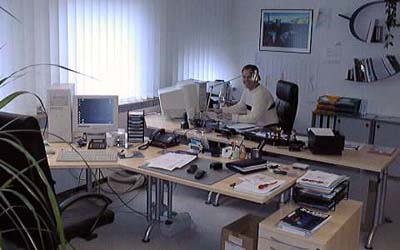 Administrative and sales office of MediaLas
Located around the corner on the ground floor is a large multi-level storage area that holds an impressive inventory of equipment and parts ready for shipment. One of the shelves also holds a number of dead 168 lasers that have served their time in shows and displays and are now beyond repair but which make a great source for spare parts. Next to the storage area is a prototyping mechanical shop where projector and optical hardware is developed before being sent out for fabrication.
Left: Stock room/shipping area. Right: Fully equipped prototyping machine shop.
The large electronics workshop area has a complete scientific type optical table, a fully instrumented test station and two assembly benches where the products they manufacture are assembled and tested.
Top: An overview of the large electronics lab and manufacturing area. Bottom Left: Fully equipped electronics testing station. Bottom Right: A technician re-builds a laser power supply.
The laser theater on the ground floor is equipped with a Cambridge Laser Labs SP168 while light laser and MVM PCAOM that is fiber fed into the room. The MVM PCAOM uses drive linearity circuits developed by MediaLas to give better performance than the factory standard units and allowing it to meet the stringent German TÜV standard for beam blanking. In the laser theater, clients can see the products in action with impressive graphics and beam shows run from both Pangolin systems and MediaLas's own "LaserPainter" software. The LaserPainter has proved popular for smaller installations or where the focus is on beam shows.
Upstairs is the secret lab where new projects are undertaken. We were allowed to visit on condition that no pictures were taken and what we saw would remain confidential. One of the newest projects just released from the upstairs lab is a driver electronics package for higher power DPSS modules. This board offers complete control of the laser including temperature stabilization to improve the performance of off the shelf DPSS laser modules.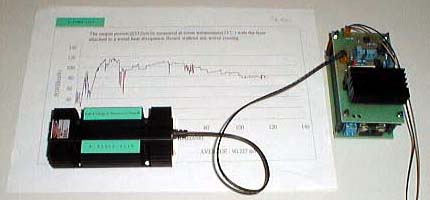 The new DPSS module PSU/controller with laser lies atop it's test chart.
After a brief but enjoyable visit, we had to make a run for the station to catch a train to Frankfurt in time for the flight back to Canada. We would like to thank Dirk and his staff for taking the time out of their busy schedule to give our subscribers and us the tour of the MediaLas facilities.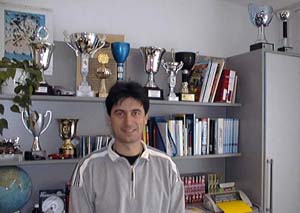 Our host and company president Dirk Baur poses in his office in front of a selection of trophies he has won racing his Porsche.
Info: MediaLas Laserproducts GmbH, Neue Rottenburger Str. 37 - DE-72379 Hechingen/Germany - Tel +49 7471 91661 Fax +49 7471 91666
info@medialas.com - www.medialas.de
DISCLAIMER: Some of the information in the Backstage area is provided by the persons or companies named on the relevant page(s). Laser F/X does NOT endorse or recommend any products/services and is NOT responsible for the technical accuracy of the information provided. We provide this information as a service to laserists using the Backstage area.
[ Introduction | World Scan | What's New | Special Reports | Virtual Visits | General Articles | Digest ]