Laser F/X On-line Newsletter - Digest

First quarter 2002
Items removed from the Newsletter section of the Backstage Area originally posted during the first quarter [January, February, March] 2002.
NOTE: Links on destination sites are often changed. We provide the digest pages for archival purposes and the links to external sites were working when the material was originally published but may no longer be working.
---
---
What's New
New products and services of interest to laserists. Submit your new product information and images in .gif or .jpg format to our E-mail or contact us.
---
OmniSistem announces Pulse Division
March 22, 2002, Kent Washington: OmniSistem Lights and Effects is pleased to announce the the launch of their new laser products division named Pulse. The Pulse division has been named exclusive distributor of Laser Quantum Ltd., products for North and South America. Pulse will sell directly to the OEM laser market.
OmniSistem has been incorporating Laser Quantum products into their systems for over a year now and we have been more than pleased with the quality and the service Laser Quantum offers. Now through the advancement of our business, the commitment we have made to Laser Quantum and the industry, we are offering these products to you backed by two strong companies; Laser Quantum Ltd., and OmniSistem Lights and Effects.
Laser Quantum has one of the lowest, if not the lowest, failure rates in the industry and OmniSistem has proven this to be true in their line of projectors.
For more information on the offerings of Laser Quantum go to www.laserquantum.com or www.pulselasers.com
---
Pangolin Update Available
Orlando, USA, Fri, 22 Feb 2002: There is a new update available for Pangolin LD2000 users. LD2000 version 2.30 represents a major update to the LD2000 system. In addition to some major new features and enhancements, this release includes a new Asteroids game, and the release versions of technologies that Pangolin has had in BETA for some time, including the Enhanced Showtime Timeline and Network Access to remote QM2000 boards.
Updates are completely free when downloaded from the Pangolin web site at www.pangolin.com, but there is a nominal charge for updates delivered on CD to cover the cost of media and shipping expenses.
---
MediaLas Announces New and Improved Lasers
Hechingen, Germany, Thu, 21 Feb 2002: MediaLas is pleased to announce they have upgraded their laser offerings as follows: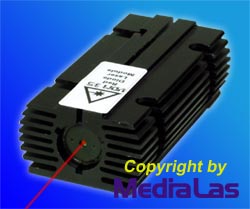 New red diode module VDM 35 available! High output power @ 635-639nm wavelength, 5VDC @ 200mA power required, analog modulation input 0-5V for full fading. Affordable and reliable.

New high power DPSS laser DPGL 700, now available. Output power >700mW, typically 800mW, analog modulation input, remote control, multi-voltage input 100 - 250VAC.
Info: http://www.medialas.de/
---
Spectronika Creates Special Safety Goggles
Sofia, Bulgaria, Mon, 18 Feb, 2002: In response to demand form laserists working with DPSS lasers, and hobbyists building DPSS lasers, Spectronika has created special "triple coated" safety goggles. These goggles will attenuate the 532 nm, 808 nm and 1064 nm lines making them ideal for working on the innards of DPSS lasers.
Damage threshold on the goggles is 20 watts so they are not recommended in applications where collimated pump diode power will exceed 19 watts.
The price of the goggles is $55.00 US$ [ex-works] but in order to offer them at this price, Spectronika must make them in batches of 10 so delivery is dependent on accumulated orders status. Shipping can be via FedEx or air-mail.
---
LVS Development Kit available
Ohio,USA: Robert Mudryk of lasers.org has announced the release of an SDK for making 3rd party add-in effects in the Laser Visualization Studio for WinAmp. In a nut shell LVS will supply you with a 3rd party dll which has 576 elements of right and left channel waveform and fft data, a isbeat flag, and an array to add/edit the vectors that are to be outputted to the laser.
LVS is a live frame generator, that runs from either MP3/line-in/CD thru WinAmp and generates laser frames synchronously in real time. It is a WinAmp "visualization" plug-in similar to other music visualization plug-ins but for use with lasers. The frames generated are outputted thru either a Pangolin QM32 or QM2000.
More Information and the download is available at http://www.lasers.org/content.php?hpage=lvs
---
3D Laser announces new software version
Spain: 3D Laser has announced the new 3DLaser Show! Pro (32 bits , beta version) is now available at their web site - http://www.3dlaser.net/3dl1.htm.
You can download a fully operational demo version for 30 a day trial period . Then you must register if you wish to continue to use it. The software boasts a variety of features for the creation and editing of laser shows - details can be found by downloading the Word document 3DLLFX.doc
---
Laser Magic Ltd Announces the Stratosphere
East Sussex, UK: Laser Magic now offer a new and unique product call the Stratosphere. The Stratosphere is a 60ft tall by 50ft wide inflatable dome with two airlock systems for entrance and exits. It has been designed to be a projection sphere capable of holding 300+ VIP guests and offers an excellent surface for the projection of video, lighting and laser images inside a unique 360º environment.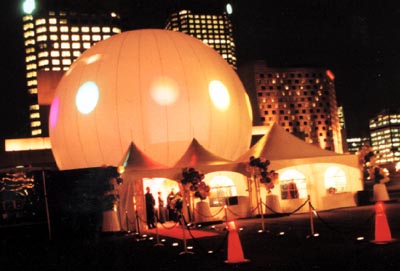 It is also possible to use the interior surfaces as a giant video or laser rear projection screen as the surface of the sphere is specially designed for this medium. We have projected both on the inside and on the outside of the Stratosphere with equally impressive results. With the quick erection time of the sphere, Laser Magic feel that this system will attract users from many areas of our industry.
Its first showing was for a large event celebrating 20 years of King Fahad in Saudi Arabia [Ed: see World Scan] where it was mounted on a barge in the sea. Inside the Stratosphere, we installed high power video and lighting systems to create a living surface, we then coupled to this the new IREOS multi-coloured searchlights as well as our new stock of Comar NAT 2.5 lights to create a unique atmosphere.
Laser Magic currently have one Stratosphere system but have a second Stratosphere on order due for delivery towards the end of the year. The hire price is competitive for this unique product and anyone wishing further details should contact Stephen Harvey at LM Productions at +44-1323-890752 or +44-7836-252885 or visit our web site at www.lasermagic.com.
---
Logic Systems announces GW-DMX0602A-DRV high Current DMX board
The GW-DMX0602A-DRV was designed specifically for the professional laser lightshow industry. By using the industry standard DMX-512 control protocol, you have analog control of beam actuators, small motors, shutters or virtually any load up to .5 amps per channel.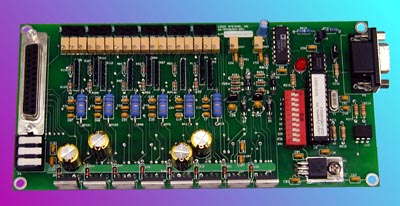 Using current control for your beam actuators and "fade out" shutters is more accurate, more reliable, and more repeatable. That is why we use this technology for our first six channels. The last two channels give you the choice of either Pulse Width Modulated (PWM) or 0-10vdc controlled outputs. They are designed for controlling Lumia and special effect motors, standard shutters, or any other device requiring this type of analog control.

Specifications: Outputs: Six each linear current controlled amplifiers. Individually adjustable gain, offset and damping pots. Two each amplifiers independently selectable for either PWM or 0-10vdc operation with individual gain control pots. All outputs are good for up to 500mA each, (with proper heat sinking and power supply).
Addressing: Selectable to start anywhere within 512 channels. Multiple cards can be used without channel overlap.
Power Supply: +/-15 to +/-24VDC @ 4 amps maximum. Can be used with a single ended supply
Interlock: Outputs can be shut down using an auxiliary digital input signal, open collector driver or hardwire switch. Allowing for interlock shutdown should your projector require it.
Protection: All channels are thermal overload and short circuit protected
Info: Craig Nelson - craig@lsione.com
---
---
World Scan
News items about laser show technology, installations and special events/shows from around the world as well as social items relating to laserists. Our "Pluses" items cover laser items from the mainstream media.
---
Large Capacity Optical Disc Video Recording Format "Blu-ray Disc" Announced
Tokyo Japan, February 19, 2002: Nine leading companies today announced that they have jointly established the basic specifications for a next generation large capacity optical disc video recording format called "Blu-ray Disc". The Blu-ray Disc enables the recording, rewriting and play back of up to 27 gigabytes (GB) of data on a single sided single layer 12cm CD/DVD size disc using a 405nm blue-violet laser. The companies that established the basic specifications for the Blu-ray Disc are: Hitachi Ltd., LG Electronics Inc., Matsushita Electric Industrial Co., Ltd., Pioneer Corporation, Royal Philips Electronics, Samsung Electronics Co. Ltd., Sharp Corporation, Sony Corporation, and Thomson Multimedia.
There are two main reasons this is of interest to laserists. First, it may be possible that this DVD format can become the long sought after ADAT replacement. It offers very high speed data transfer and could be adapted to store data for laser shows. reasonably priced recorders and players will be available once the product gets mainstream distribution.
The second reason is that it will be based on a 405nm blue-violet laser. This will spur the development and deployment of of these blue solid state lasers making them cheaper, more plentiful and more reliable then present offerings on the market. Combined with readily available red diodes and green DPSS modules, it will be possible to build small full colour display and programming projectors. It will also allow for the creation of blue laser pointers and generations to come of laser hobbyists will be scavenging the blue diodes from used DVD players for building home-brew systems.
Link to the official announcement: http://www.matsushita.co.jp/corp/news/official.data/data.dir/en020219-4/en020219-4.html
---
Laser Safety Training

The Laser Institute of America is holding two courses for laser safety: Fundamentals of Laser Safety in St. Louis, MO on March 21-22 and Industrial Laser Safety in Milwaukee, WI on April 8. All the details of these courses including the course agendas, locations and registration information can be viewed at the following links:

Fundamentals of Laser Safety
http://www.laserinstitute.org/lia_courses/industrial_safety/fls
Industrial Laser Safety
http://www.laserinstitute.org/lia_courses/industrial_safety/ilst/
---
Lasers in your car exhaust?
Physicist Marlan Scully says that car exhaust gasses are a laser waiting to happen! he is proposing that a MASER can be used in a car exhaust to extract useful energy in the from of laser emissions! The journal Nature has an article on-line at http://www.nature.com/nsu/020128/020128-3.html
---
Schneider declared Bankruptcy?
Tuerkheim, Germany 26 January 2002: In a press release posted today on the http://www.schneider-ag.de/ web site, Schneider Laser Technology AG, makers of the world's first high power all solid-state white light laser, announced on 26 January that it is declaring insolvency. Here is part of the press release which was posted in German and has been computer translated: "The executive committee of Schneider Technologies AG as well as the executive committees of the subsidiary companies Schneider Electronics AG and Schneider Laser Technologies AG submitted on Monday, 28 January 2002 the insolvency request because of inability to pay with the responsible district courts in Memmingen and Gera place. In the past months numerous intensive discussions with potential investors, shareholders as well as outside capital sources were held to insure the security of successful growth strategy in the entertainment electronics and the advancement of the lasers display technology. The additional financial requirement for development, restructuring and continuation of the operational business could not be guaranteed despite intensive efforts of the executive committee."
In a statement issued on the ILDA mailing list, Patrick Murphy of AVI [the US distributors of the Schneider laser] stated; "While the Schneider company (makers of electronics and TVs) is going
bankrupt, the Schneider Laser Technologies division may be bailed out by the local government. (I am sure our friends in Germany can tell us more. As with any bankruptcy, the situation may be in flux as the company, bank, government, etc. work things out.) Fortunately, the key components in the Schneider solid-state RGB laser are manufactured by a completely separate company, which appears to be strong, Jenoptik."
It is not clear if the Schneider laser division will continue operations as in the past, will change names or will sell their intelectual property to a sucessor company. More news will be posted as it becomes available.
---
Rockwell Announces Laser Safety Courses

Rockwell Laser Industries would like to announce the upcoming Industrial Laser Safety, and Laser Safety Officer Courses for 2002.
The Basics of Lasers & Optics course (L110) and the Industrial Laser Safety course (L120) will run February 5-6 & 7-8 in Orlando, Florida.
The Laser Safety Officer (L220) will be held on February 11-15 in Orlando, Florida.
For further information please refer to our web site - www.rli.com. You may register by contacting RLI or you may register online.
---
Pulses
---
Pangolin special report on solid state white light lasers.
Pangolin Laser Systems recently held their annual Pangolin Users Group [PUG] meeting in Orlando Florida. This meeting is usually held in conjunction with the annual ILDA meeting, which was cancelled this year. Pangolin decided to go ahead with the PUG meeting, and in fact, staged two PUG meetings in order to accommodate the schedule of laserists who had planned to attend ILDA or who were attending LDI.
Both versions of the PUG meeting featured the use of solid state while light lasers. Due to the interest in these lasers, Pangolin has produced a special report on them which is available as part of the coverage on the PUG meetings. The solid state white light laser reports is available at http://www.pangolin.com/industry/ilda2001/new_laser_info.htm
---
King Fahad 20 years in power

Overall production: Laser Magic Ltd - Stephen Harvey Technical teams from LM UK, LM Bahrain, USA, Saudi and the UAE.

Jeddah, Saudi Arabia: Laser Magic won this prestigious contract to provide a "world class show" for the celebrations of 20 years of successful reign of King Fadah in Saudi Arabia. The show date was the 8

th November 2001 and from contact to show day Laser Magic had just 4 weeks, a tight schedule indeed. Laser Magic has been involved in major events worldwide for nearly 20 years and as a result could draw upon a very strong production team, which was necessary for such a short show schedule.
The show site was in front of the Kings Palace and directly in front of the Jeddah Fountain. For any of you that do not know the fountain, it is one of the largest water fountains in the world, with the main column of water going as high as 245 meters. With a bit of wind, it forms one of, if not the largest water screen in the world and was a fantastic backdrop to the main show.
The main show consisted of 5 huge barges; each barge was at least 25 meters in width and nearly 40 meters in length and to give you some idea of the scale, we installed 6 Aggreko generators, one 500Kva and one 350Kva on three of the barges and they moved only 1 inch lower in the water. The three main show barges were moored about 100 meters from the audience.
Day [left] and night [right] views of the StratoSphere mounted on a large barge in front of the royal palace.

On the centre barge was the StratoSphere which took about 5 hours to build. Installed inside the StratoSphere were 2 Barco 12K projectors with special fish eye lens, we also installed 12 Martin MAC 500 and Martin MAC 600 lighting fixtures to project colour and effects on the full surface of the dome, and the main video mixing systems.
Outside the dome again on the main barge we installed 6 x 2.5K NAT Scan lights and two 4Kw IREOS multi-coloured searchlights as well as more wash and profile lights by Martin. Due to the nature of the show i.e. three barges and lots of water, we used the latest radio DMX systems, which worked very well and come highly recommended.
For the barges (which where 75 meters either side of the main barge), we installed a 20 meter by 40 meter water screen together with a Barco 12K projector, two IREOS searchlights and again more of the Comar 2.5K Nat Scans together with both MAC 600 wash and MAC 500 profile lights from Martin.
As well as this impressive equipment list Laser Magic also installed a 10 watt full colour laser system and a larger 40 watt Emerald Nd Yag laser system on each of the outside barges, again all the systems were controlled either via radio DMX or standard control cables (where possible).
The two rear barges contained a huge amount of fireworks and were moored a safe 125m away from the audience, safety being paramount for our professional pyrotechnics team. On each barge we had enough fireworks for two 7 minute shows and two 25 minute shows, which was a lot of explosives!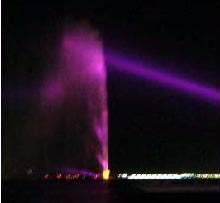 Finally, to round off the show we installed 5 IREOS multi-coloured searchlights around the Jeddah fountain together with a powerful Millennia SX to project animations and text on to the fountain screen. This water screen (due to the wind conditions turned out at around 180 meters in height by at least 100 meters width.
Show format
The central theme of the King Fahad event was to show the advances made whilst King Fahad has ruled the Kingdom. To this end we had a specially commissioned video produced in Bahrain and Jeddah, but to supplement the video, we produced a custom sound track and programmed the lights using 2 Avolight Sapphires again using radio DMX. This worked especially well with the IREOS searchlights based at the Jeddah fountain as the units were approximately 800 meters away from the lighting desks.
The living surface on the Stratosphere was produced, by both intelligent lighting and video overlay along with some custom gobos. The StratoSphere was made to pulse with different intensities and colours along with abstract video images mixed live from inside the StratoSphere.
The multi-media show was 30 minutes long with a stunning fireworks display at the end, this was the StratoSphere's first outing in the Middle East and was hugely successful. We plan to have a StratoSphere based in the Middle East, UK, and if the demand is there in the Asia region.
It would have been far easier if we had more production time and then we could have done the show on land. BUT this was a unique event for King Fahad and as such we were allowed to be very creative given the short production schedules. One final note, a very big thank you to all the personnel involved in this event, you made it possible!!
---
DISCLAIMER: Some of the information in the Backstage area is provided by the persons or companies named on the relevant page(s). Laser F/X does NOT endorse or recommend any products/services and is NOT responsible for the technical accuracy of the information provided. We provide this information as a service to laserists using the Backstage area.
[ Introduction | World Scan | What's New | Special Reports | Virtual Visits | General Articles | Digest ]