Detailed Laser Safety - Introduction
This section of the Laser Safety topic has more detailed information about laser safety, which is of interest to laserists, than can be found in our Basic Laser Safety section which takes a more general approach.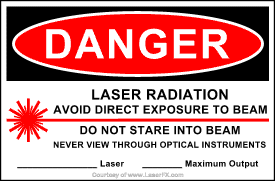 As laserists, it is our responsibility to provide not only a thrilling and exciting show for our audience, but also a SAFE show. Retinal damage is permanent and we must observe all regulations, and take every precaution to insure that nobody is harmed by our artistic endeavors.
The present draconian regulations in the United States, some of the most stringent in the world, are due in part to the careless and unthinking activities of laserists in the pre-regulation days. There were incidents where un-scanned, high power, laser beams were projected directly into the audience at rock concerts. The government overreacted and imposed heavy restrictions making audience scanning almost impossible in the USA.
Recent events in Russia, where dancers at a party were scanned with a high power pulsed laser, have again brought laser safety issues back into public consciousness. The many reports in the media of dozens of people who's vision was damaged at that event reinforce the public's perception of lasers as "death rays". This type of negative publicity damages the reputation of laserists who abide by the safety regulations and makes it harder for us to earn a living.
For those laserists operating in jurisdictions where audience scanning is permitted, or in jurisdictions with little or no regulations, safety precautions in accordance with international standards must be observed. Not only to insure the safe enjoyment of the show by the audience, but also to prevent restrictive regulations being introduced which will hamper artistic expression and the creative use of the medium.
[ Introduction | Eye and Skin Hazards | Electrical fire and flood hazards | Basic safety precautions | Laser Pointer Safety ]
[ Laserist Introduction | Laser Safety Archives | Laser Safety Regulations | Laser Safety Links ]