Detailed Laser Safety - Safety Regulations
This page provides links to safety information and laser safety authorities for various countries and regions. If you have additional inks to safety regulations, please E-mail them to us so that they can be included on this page.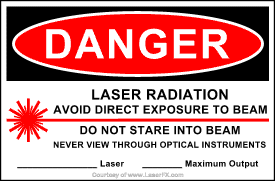 Australia
Canada
The Radiation Protection Bureau is the division of Health Canada which is responsible for laser safety.
Germany
Japan
United Kingdom
United States
The Center for Devices and Radiological Health, CDRH, which is a division of the FDA [Food and Drug Administration] is the main regulatory body responsible for laser safety administration in the United states:
[ Introduction | Eye and Skin Hazards | Electrical fire and flood hazards | Basic safety precautions | Laser Pointer Safety ]
[ Laserist Introduction | Laser Safety Archives | Laser Safety Regulations | Laser Safety Links ]