Detailed Laser Safety - Safety Links
This page presents selected links to other sites and articles on laser safety which may be useful to laserists.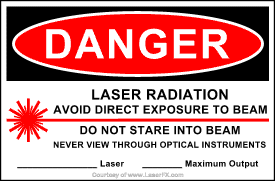 Laser Institute of America: The Laser Institute of America is the professional membership society dedicated to fostering lasers, laser applications and safety worldwide.
Laser Safety Information Bulletin: This brief bulletin has been prepared by LIA's Laser Safety Committee to educate new laser users on the concerns and issues related to laser safety.
Laser Safety Manual: The on-line Laser Safety Manual from the University of Waterloo. Good general information, especially the Laser Fundamentals section.
Occupational Health and Safety Administration (OHSA) - a division of the US Department of Labor, provides a number of useful pages of laser related safety information:
Laser and Health Topics - Laser Hazards
OSHA Technical Manual: Section III, Chapter 6 - Laser Hazards
OSHA Technical Manual: Appendix III 6-4 - Warning Signs
OSHA Regulations (Standards - 29 CFR) - Complete regulations Document
Rockwell Laser Industries: Rockwell provides a wide variety of laser safety products and services to a client base that includes most of the Fortune 500 companies, the U.S. National Laboratories, laser manufacturers, major hospitals, small clinics and surgical centers.
Sam's Laser FAQ: Introduction to Laser Safety section.
[ Introduction | Eye and Skin Hazards | Electrical fire and flood hazards | Basic safety precautions | Laser Pointer Safety ]
[ Laserist Introduction | Laser Safety Archives | Laser Safety Regulations | Laser Safety Links ]