Laser Hobbyists - Laser Construction
Many people have expressed an interest in building their own lasers. While this can be a difficult, time consuming and expensive approach, here are some links and resources provided for those who would like to build a laser.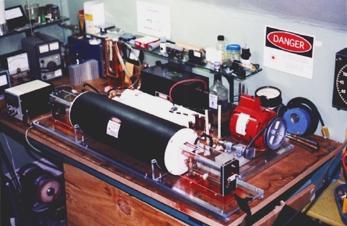 Home built CuBr2 Laser - Photo courtesy of Chris Chagaris
Guidelines for a Copper Halide laser - This 20 page .PDF file, contributed by Jeff Aust, gives an outline and the information you need if you are interested in building a home-brew pulsed copper halide (CV) laser.
Pump Cavity - Many people have expressed an interest in building green DPSS lasers. The first step in building a 532 nm laser is to produce the necessary IR laser beam for frequency doubling. This article on building an IR laser pump cavity was contributed by Bob, the resident solid-state laser guru on alt.lasers.
Resources
There have been a number of articles published that give the design and theory of lasers with enough information that the technically competent can build one. Here is a listing of the most popular articles which can be obtained from scientific and university libraries:
Scientific American
Scientific American , February 1969, pp. 118-123 , "How to construct an argon laser with outputs at several wavelengths".

Scientific American , February 1970, pp. 116-120 , "A tunable laser using organic dye is made at home for less than $75".

Scientific American , June 1974, pp. 122-127 , "An unusual kind of gas laser that puts out pulses in the ultraviolet".

Scientific American , October 1980, pp. 176-181 , "A homemade mercury vapor ion laser that emits both green and red-orange".

Scientific American , April 1990, pp. 88-91 , " A homemade copper chloride laser emits powerful bursts of green and yellow light".
Other Articles
"A 3% effiency N2 Laser" - B.Oliveira dos Santos e.a; Appl Phys B 41 241-244 1986

"Compact High-Power N2 Laser:Circuit Theory and Design" - A.J. Schwab , F.W. Hollinger; IEEE Journal of Qantum Electronics Vol QE-12 No 3. March 1976 pp. 183-188

"High Efficiency Low-Pressure Blumlein Nitrogen Laser" - A. Vasquez Martinez and V. Aboites; IEEE J. of QE Vol 29 no. 8 August 1993 pp. 2364-2370

"A Simple High-Power Large Efficiency N2 Ultraviolet Laser" - Bruno Godard; IEEE J. of QE vol QE-10 no 2 February 1974 pp. 147-153

"Simple fast-discharge device for high-power pulsed lasers" - C.P. Wang; Rev. Sci. Instrum. vol 47 No 1 January 1976 pp. 92-95

"Low cost Nitrogen Laser Design for Dye Laser Pumping" - Peter Schenck and Harold Metcalf; Applied Optics, February 1973 Vol 12.No 2 pp. 183-186

"Compact TEA N2 laser" - Ernest E. Bergmann; Rev. Sci. Instrum. Vol 48 no 5 May 1977 pp.545-546

"Compact High Power subnanosecond Nitrogen and 'Open Air' lasers at 760 Torr" - W.Herden; Physics Letters Vol. 54A, no. 1, 11 August 1975 pp. 96-97

"Effective glow discharge excitation of nitrogen lasers at gas pressures ranging from 0 to 5 bar" - V. Hasson H.M von Bergmann and D.Preussler; Applied Physics Letters Vol. 28 No.1, 1 January 1976 pp. 17-18

"Pulsed corona excitation of high power UV nitrogen lasers at pressures of 0-3 bar" - V. Hasson H.M von Bergmann and D.Preussler; Applied Physics Letters Vol. 27 No.10, 15 November 1975 pp.553-554

"An Investigation of the effects of the Discharge parameters on the Performance of a TEA N2 laser" - Chigusa Iwasaki and Takahisa Jitsuno; IEEE J. of QE Vol QE-18 No.3 March 1982 pp.423-427

"Ultraminiature high power gas discharge lasers" - V.Hasson and H.M. von Bergmann; Rev.Sci.Instrum. 50(1) Jan. 1979 pp. 59-63

"Experimental and Theoretical Investigation of the Nitrogen Laser" - W.A. Fitzsimmons e.a
IEEE J. of QE Vol QE-12.No 10, October 1976 pp.624-633

"Spark pumped dye laser with high repetition rate and low threshold" - C.M. Ferrar
Appl.Phys.Lett. Vol 23, No 10, 15 November 1973
These links provide general and background information about the theory and operation of lasers:
Sam's Laser FAQ: One of the best resources of technical information on all types of laser and laser construction is Sam's Laser FAQ. Sam's Laser FAQ has by far the largest collection of information on home-built lasers in addition to general laser info. Chapters on ALL of the Scientific American lasers as well as pulsed lasers, DPSS lasers, and more! The link connect to a page that is an introduction and gateway to Sam's Laser FAQ. You should read this FAQ first before you start out on your projects to get a good background on lasers. Sam's Laser FAQ can be downloaded as a .zip file from the Archives and Download section of this site.
Hubert's Lasers for Amateur: Pages about building Nitrogen, Air and other lasers; as well as information on experimenters scanners built from hard drive actuators and loudspeakers.
Disponible en français.
Construction and Operation of a One-Meter Helium Neon Laser - This is a technical paper written for a Laser Physics Class (Physics 470K) at Purdue University Calumet. At the time this paper was written, (the early 1980's), building a large HeNe laser tube was still more economically feasible as compared to purchasing a laser of this size.
Contributed by J&K Laser Productions
Most of the information and ideas in the Hobby Archives have been contributed by hobbyists and experimenters. If you have any comments or ideas to share, please contact us by E-mail.
DISCLAIMER: Some of the information in the Backstage area is provided by the persons or companies named on the relevant page(s). Laser F/X does NOT endorse or recommend any products/services and is NOT responsible for the technical accuracy of the information provided. We provide this information as a service to laserists using the Backstage area.
[ Introduction | Hobby Archives | Hobby FAQ | Laser Construction ]