Laser Show Systems - Pinouts
DISCLAIMER: The pinouts shown here were contributed by manufacturers, vendors and individuals. While every effort has been made to insure accuracy, LaserFX.com can not be responsible for any errors or omissions.

Logic Systems DMX interface and driver cards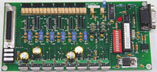 Clicking the link below will open a .pdf version of the relevant manual and pinout for the Logic Systems DMX and driver interface cards - To transfer a local copy to your computer, right click the link and choose "Save as".
While this information was provided by Logic Systems, it may not be the latest update - contact craig@lsione.com for the latest versions.
DISCLAIMER: Some of the information in the Backstage area is provided by the persons or companies named on the relevant page(s). Laser F/X does NOT endorse or recommend any products/services and is NOT responsible for the technical accuracy of the information provided. We provide this information as a service to laserists using the Backstage area.
[ Introduction - System Design - Scanning Systems - Support Equipment - Laser Graphics - Show Production - Pinouts ]