Laser Show Systems - Support Equipment
Support equipment such as power distribution, water systems, scaffolding, smoke machines, hazers, remote controlled mirrors, show storage systems and other outboard effects play a major role in show production. This section is devoted covering this type of equipment.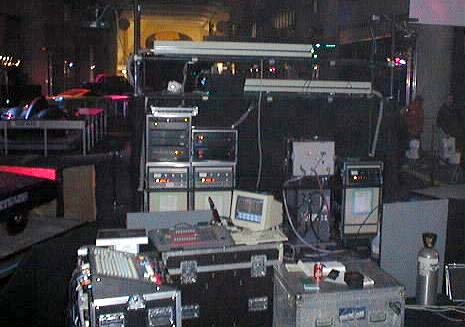 Backstage at a major laser show. Not only are the lasers involved, but lighting controllers, sound equipment, water and power distribution and hazers - Photo courtesy of FFP Lasers
Links
Links to other selected web pages or articles of interest.
DISCLAIMER: Some of the information in the Backstage area is provided by the persons or companies named on the relevant page(s). Laser F/X does NOT endorse or recommend any products/services and is NOT responsible for the technical accuracy of the information provided. We provide this information as a service to laserists using the Backstage area.
[ Introduction - System Design - Scanning Systems - Support Equipment - Laser Graphics - Show Production - Pinouts ]