Laser Show Systems - Laser Show Production
Laser system placement, bounce mirror layout, staging, show design, scheduling and other production considerations are covered in this section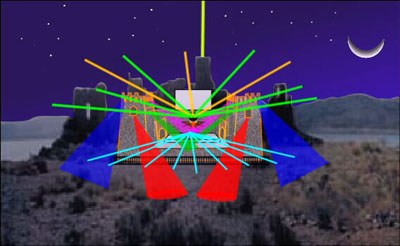 Artist concept drawing for an outdoor show with moving lights and lasers
Building an Outdoor Screen - In outdoor venues where laser graphics are to be used, a suitable screen often presents a problem. This article discuses relatively simple methods of building an outdoor screen from readily available materials.
How much power do I need? - Depending on the type of laser effects desired, different output power is needed from the laser(s) used at a show. This article gives some guidelines based on practical experience for the power levels needed to make different types of laser effects in different venues.


1999 Stockholm Water Festival - A detailed report from an insiders perspective of the Urström show by Obscura Magica at the 1999 Stockholm Water Festival. This show used two high power full colour laser graphics systems with stereoscopic 3D laser images, two high power laser beam effects systems, fire effects, smoke effects, Pani projections and a specially composed musical score for it's 10 day run seen by an estimated 300,000 spectators. The Show Diary section gives a day-by-day account of the trials and tribulations of production such a large and complex show.
DISCLAIMER: Some of the information in the Backstage area is provided by the persons or companies named on the relevant page(s). Laser F/X does NOT endorse or recommend any products/services and is NOT responsible for the technical accuracy of the information provided. We provide this information as a service to laserists using the Backstage area.
[ Introduction - System Design - Scanning Systems - Support Equipment - Laser Graphics - Show Production - Pinouts ]