Laser Show Systems - Scanning Systems
The scanners are where the 'rubber meets the road' in laser projection systems. Scanners are one of the most often discussed components in laser shows systems. This section contains articles, papers and links that provide information on scanning systems.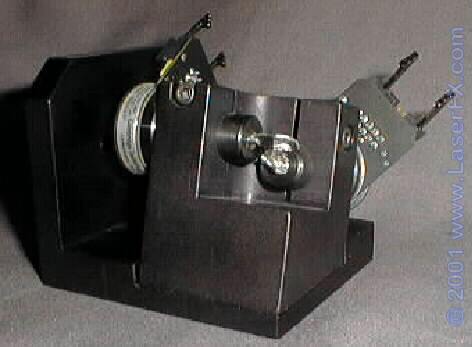 Cambridge Technology 6800HP scanners mounted on CTI heatsink - The most popular scanners in professional applications - Photo by Laser F/X
How To Tune To The ILDA Test Pattern - By Bill Benner and Patrick Murphy.
This paper, reproduced from Volume 1, Number 2 of Laser Effects, covers the details of how to tune your scanners to the ILDA 12K or 30K scan speed standards.
ILDA Test Pattern - A copy of the information provided by ILDA on how to tune scanners to the ILDA test pattern with diagrams.
Off-site Links
Here are some selected links to other articles and papers on scanning systems that may be of interest.
Theory Of Operation - This page, from the same site as the page above, has a discussion and diagrams of how a scanner works.
Scanner tests - Five different scanning systems compared in over 50 photographs. The photos are in two general categories: test patterns and sample frames from Lightspeed's "Creation" show.

DISCLAIMER: Some of the information in the Backstage area is provided by the persons or companies named on the relevant page(s). Laser F/X does NOT endorse or recommend any products/services and is NOT responsible for the technical accuracy of the information provided. We provide this information as a service to laserists using the Backstage area.
[ Introduction - System Design - Scanning Systems - Support Equipment - Laser Graphics - Show Production - Pinouts ]