Archives and Download - Download
Laser Show Designer 1000 (Amiga)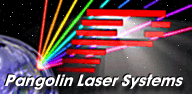 LSD1000 was Pangolin's first commercial software, this full functioning program originally cost $995. It is now available free to help hobbyists, experimenters, and those on a budget to get started with laser light shows.
The Software requires a Commodore Amiga with 1 MB of memory or more, and Workbench 1.3 operating system. May work under Workbench 2.0 and higher, but has not been tested. Sorry, but technical support from Pangolin is unavailable since the Amiga computers are almost obsolete. You can occasionally find some on E-Bay or at swap meets. Users have reported good results with the A500 and A600 model. The A600 takes a bit more work to modify since it uses surface mount technology, however they usually have a built in hard drive making them more convenient and faster.
The Amiga computer has to be modified with an add-on board so as to make the signals from the built-in sound chip bi-polar to control the laser scanners. A suitable circuit is available on the Low Budget Laser Graphics System page.
LSD1000 is provided here as four .LHA files [a popular compression utility that also works on Amiga computers]. Each file contains the contents of one Amiga disk. You must either un-compress each file into a separate directory and then use cross-Dos or a similar program to copy the contents of each directory onto an Amiga disk, or copy the .LHA file to the Amiga and uncompress it onto a floppy there.
DISCLAIMER: Some of the information in the Backstage area is provided by the persons or companies named on the relevant page(s). Laser F/X does NOT endorse or recommend any products/services and is NOT responsible for the technical accuracy of the information provided. We provide this information as a service to laserists using the Backstage area.
[ Introduction | Archives | Download ]