Laser Hobbyists
Lasers and laser shows hold a fascination for many people. While not everyone has the resources and training to become a professional, lasers can be an interesting and educational hobby.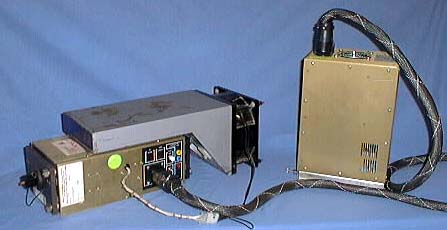 The ALC 60X air-cooled argon laser and "gold box" exciter
This area is devoted to low budget hobby and start-up laser light shows. Here laser hobbyists and experimenters can find ideas, tips and techniques for producing laser effects with low cost and home-brew light show systems.
Hobby Archives: Articles of interest to hobbyists and experimenters are posted on the Hobby Archives page. There is a listing of the articles available on the main Hobby Archives page.
Hobby FAQ: A page with some of the more Frequently Asked Questions about hobbyist laser systems. We welcome your submissions and suggestions to this page - send E-mail to info<at>LaserFX<dot>com
Laser Construction: Many people have expressed an interest in building their own lasers. While this can be a difficult, time consuming and expensive approach, there are some links and resources provided for those who would like to build a laser.
Most of the information and ideas in the Hobby Archives have been contributed by hobbyists and experimenters. If you have any comments or ideas to share, please contact us by E-mail.
DISCLAIMER: Some of the information in the Backstage area is provided by the persons or companies named on the relevant page(s). Laser F/X does NOT endorse or recommend any products/services and is NOT responsible for the technical accuracy of the information provided. We provide this information as a service to laserists using the Backstage area.
[ Introduction | Hobby Archives | Hobby FAQ | Laser Construction ]