Business Issues - Marketing
Your Web Site
Introduction
Lasers are a visual medium and the internet is the ideal place to provide information about, and images of, your laser show in a cost effective manner. A well through out web site is a vital promotional tool in today's marketplace. This article covers the basics of putting together or upgrading your web site.
There are many useful resources on the net that give guidelines and examples of good design practices. There are also sites that explain how search engines work and what to include in your hidden tags in order to get good search engine placement. You should spend an evening reading this kind of material before embarking on your web site design.
Your Domain
The first step in putting together your web site is to register your domain name. A domain name usually takes the form of www.YourComapnyName.com. One of the things your should have taken into consideration when registering your company is if the domain name would be available and was not already owned by another person or company.
While there are many 'free' web hosting services on the net, these usually do not host domains and you land up with a long and difficult to remember URL [Universal Resource Locator] such as www.FreeHostingCompany.com/users/YourCompanyName. Besides being hard to remember and find, this gives a bad impression to clients as it indicates that you are not serious enough about your company to pay for your own domain and domain hosting services. These sites make money by placing banner ads for other people on your pages which also gives a poor impression to potential clients. It is best to arrange to have your domain hosted professionally on a server with high speed, preferably redundant (multi homed), access to the net.
Your internet service provider can assist you in the domain registration process [usually for a small fee] and the technical details of having it connected to a server with your web pages. If you have not yet constructed your web site and are still in the planning stages, registering the domain name right away is a good strategy to insure the somebody else does not take it while you are still gearing up to go on-line.
You should register your domain name in all the TLDs [Top Level Domains], that is to say .com, .net and .org if possible so that another company does not register one of them. Laser shows are not the only services that use the word laser in their titles, so you could land up with a laser printer repair company using the same name as yourself, but with a different TLD extension. A client who types in www.YourComapnyName.net when they should have typed in .com may land up being confused if they find an alternate company offering unrelated services.
Planning and Design
Once you have registered your domain, you need to spend some time in the planning and design phase to determine the look and content of your site. Spend some time on the net looking at the web sites of other laser companies that serve the same market(s) as you plan to serve.
The objective is to get ideas of the style they use and the kinds of material they make available to prospective clients. Depending on the market(s) you plan to serve, you should also spend some time looking at the web sites of non laser companies that serve similar markets. For example, if you plan to serve the corporate market, spend some time looking at the sites of Fortune 500 companies to see how they present their information. You should not copy these sites directly, but use them as a guideline to get ideas for your own web site.
You will notice that there are certain elements that all web sites have in common:
Home Page: The home page is your "front door" or "storefront". It should be visually appealing and should contain, your logo, an introductory paragraphs about your company and your services, one or two images of your shows, as well as navigational links to the rest of the pages on your site. As a general rule, the home page should not be very lengthy and should appear on the clients screen in less than 10 seconds. Beware of fancy animations or flash intros that can take some time to load, or can be annoying to repeat visitors to your site..

Navigation: Good navigation is imperative to help clients to find the information they need about your company quickly, and to allow them to move about within your site with ease. The most common styles are navigational links down the left hand side of the page [such as this page], across the top of the page and across the bottom of the page. In some cases where you use images (buttons) for navigation, you may want to duplicate the links to web pages as text only links elsewhere on the page [usually at the bottom].

Products/Services page: Your site should have a page in which you talk about the products and service you offer. If your are focusing on only one market, then all the information can be on this page. If you serve several markets, then this page can be a general introduction to your services with links to pages that would be of interest to specific markets [corporate shows, special events, awards banquets, etc.].

About Page: The 'about' page is generally a page that talks in a little more detail about your company and it's track record. It may also contain information on the principals [owners] of the company with their photos. If you are relatively new to the business and don't yet have a lengthy client list, it can be included on this page. Once the list has grown to 20 or more client names, it can be moved to a separate references/clients page.

Contact page: Many sites have a contact page that gives the name, street address, phone, fax and E-mail for the company along with hours of operation. If you serve several markets and have a partner or other staff who specialize in particular market segments, then you can list contact information for each 'division' of your company here.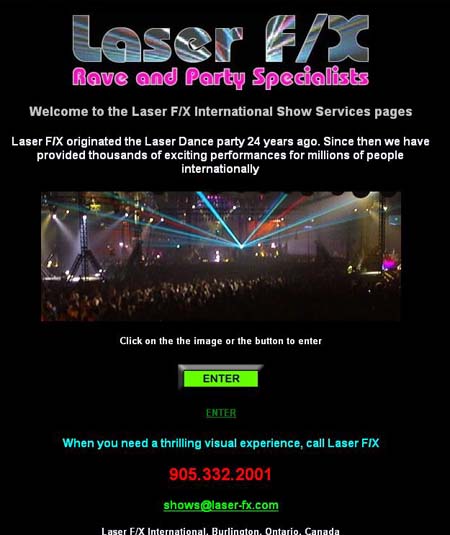 An example of a typical home page. It has the company logo, a short introductory paragraph, a large "key image", a button and a text link to enter the site, a slogan, and contact information. The page uses only 2 fonts [one in the logo and one for the text] and uses about 1.5 screens no little scrolling is required to see the full page.
Content
Your web site is your on-line salesman and may be the first point of contact a potential client has with your company. It should convey all of the relevant information about your company and the services you offer to clients. Naturally a certain amount of 'puffery' is expected but stay away from exaggerated claims - particularly in the technical area as clients are becoming more tech savvy as time passes. Remember that many of them may have read the LaserFX.com and other laser sites and can be quite knowledgeable about laser show technology.
Avoid superlatives or exaggerated claims and use positive language when discussing your services. Never slam the competition, in fact, act as if the competition does not even exist! Rather dwell on the positive benefits the client can expect from hiring you, your track record, and the skills and special techniques that you bring to the services you offer.
Illustrate your site with appropriate images of your work. Avoid the temptation to down load spectacular images of other people's shows and put them on your site. If you don't have the equipment to create the effects you show in the pictures, you are setting yourself up for a complete loss of credibility and sales.
If there are some images from other sites that you want to use, contact the site owner first and ask permission. Many site owners would be happy to let you use the images provided that are give credit. Credit can consists of a small text line "photo by [insert name here]" below the photo - you can see examples of this throughout the LaserFX.com web site.
Building Your Site
Once you have decided what materials should be on your site, you should create a rough layout of what you want using a separate sheet of paper for each web page. You should write the text that will appear on each page in a word processor and gather the images you plan to use.
Once you have your outline ready, you should seek a professional to put the web site together for you - especially if you plan to serve the corporate market. You can do it yourself and everybody and their dog claims to be a "web designer", but to get professional results you need a professional. A professional will optimize HTML code to make sure that it is compatible with all browsers, will make sure images are optimized for fast download, will include the hidden tags that search engines look for, and will be aware of the limitations of the medium. In many cases, they will be able to contribute ideas that you may not have considered.
Before visiting the professional to discuss your web design, ask then for references and go and look at the sites they have designed to see if they are of top quality with no broken links or missing images. Have your outline ready [on paper and with the content on a floppy] and also print out or prepare a list of sites that have design ideas or elements that you would like to incorporate into your site so they can get a better feel for the look you want.
If your funds are limited, you can consider a semi-professional approach. You can design and build the web pages yourself using one of the WYSIWYG software packages on the market or even one of the many word processors that can save to HTML format.
Once you have this done, take it to a professional and have them re-do it properly. Many of the available web page creation tools produce poor code. Word processors are particularly egregious as they usually produce the page as a series of many nested tables which takes time to download and can cause a considerable wait for the page to appear on the client's screen depending on the speed of their connection and the processing power of their computer.
A professional can clean all this up and produce code that is optimized to display correctly on all browsers in the minimum time. Remember to ask that as part of the deal that they produce a template page - this is a blank page with navigation and artwork in the style of the rest of your site. When you want to add more content later, you can use a copy of the template page as a starting point so that the new page has the same look and layout as the other pages in your site.
If you are going to do the web pages yourself, there are a number of things you should take into account:
Avoid using non standard fonts even if they look great and are your preferred corporate font. Your web pages will be accessed by a variety of computers and there is only a small set of standard web fonts that are available on every computer and which will allow your page to render correctly. If you use a font that is not available on the client's computer, you may have unpredictable and even ugly results.

Avoid the temptation to make pages that are "busy" with lots of irrelevant animated gif images. This might look acceptable on a high school student's page but could be an annoyance to your clients and slows down page loading.

Try to limit your pages to one large "key image" and a number of smaller images on each page. Images take time to download so you don't want your client to loose interest and go elsewhere because your pages are to slow to load. This is less of a concern in major cities as almost everybody has a broadband connection these days.

Since lasers are a visual medium, images are the best way to convey what your show looks like. The best way to do that is to make a "Gallery" section where you can have a number of large images of your shows. People visiting gallery pages expect they will take some time to download.

You can improve your clients experience of your site by breaking the Gallery down into a number of pages. You might consider one page for photos of corporate shows, one for trade shows, one for parties, etc. As mentioned above, be sure the images are all from your shows or that you have permission to use them and give photo credits. Clients may have seen the images on the original site and you will loose credibility if they see them on your site without proper attribution.

Take care to make sure your pages are not to large and thus take a long time to download. While broadband connections [DSL and cable Modems] are ubiquitous in North America, you never know what speed of connection the potential clients may be using to access your site. Make sure that you pages load in a reasonable time using a 56K modem.

Make sure your site is well laid out and easy to navigate by providing links to every section on every page. Every page should also contain your company logo and your basic contact information such as E-mail and phone number at the bottom of the page. This is important even if you have a contact information page as some clients may print a page of interest and not the whole site. If your basic contact information is not on that page, when the client needs lasers, they may have no way to reach you if they have not book marked your site and the printed page does not contain contact information.
Beta Testing
Once your site is on-line, whether you had it done by a professional or you did it yourself, you should do some beta testing before inviting clients to visit. Go to the free terminals at the local public library or to a friends place who subscribes to a different ISP than you do and take a look at your pages. If you have a friend who uses a dial-in connection that would be an ideal place to check your site.
When testing your site, be sure to use both Netscape and IE to view the pages. While HTML code is standardized, the two different browsers display the pages in different ways. IE is particularly troublesome as it has custom tags and features that are not a part of the standard HTML code and that will not display correctly on other browsers.
Make sure the pages load in a reasonable amount of time. Check ever link on every page by clicking it and then going back to the page you came from to test for broken links. Look for any images that are out of position or missing, broken tables and other layout issues. Be sure to read through all of the text looking for spelling and grammatical errors.
Make notes as you go through your site and then have the errors corrected by your web professional or go home and correct them yourself. Once this is done, invite selected friends and family to visit the site with a critical eye and E-mail you with any errors they find.
Going Live
Once you have eliminated all errors on your site, you are ready to go live. You can't simply sit back and wait for people to come to you, you have to drive traffic to your site. The best way to do this is to insure that your URL appears on your business card and all other printed materials you use including your letterhead. You should also include your URL in the signature block of your E-mail so that it is contained in every message you send.
You can also drive traffic to your site by posting a short invitation to visit your site to relevant mailing lists or web forums. Be careful to do this tastefully and to observe any rules the web site or mailing list may have about such announcements - you don't want to annoy potential clients or be considered to be a spammer!
You should register your web site with the major search engines, and any search engines that cater to market segments that you wish to serve. This can be as simple as going to each search engine and looking for the "submit URL" link then filling out the on-line form. This can be tedious and time consuming so you may want to use one of the many on-line services that submit your URL to multiple search engines for a small fee. Remember that it can take 6 to 8 weeks for your URL to show up on a search engine after it is submitted due to the volume of submissions they get.
Summary
A well designed web site is a vital tool for promoting your company and your services. For the best results, it should be designed by a professional who understands the limitations of the medium
It should have a home page with links to other pages they give more detail about your products and services. The content should emphasis the benefits that will accrue to the client by hiring your laser show services. While images are the best way to show what you can do for clients, they can be time consuming to download so a properly designed gallery page or section should be included.
Once your web site is done and put on-line, you should do extensive beta testing to insure there are no problems before inviting clients to view it. You should also be sure to register with the major search engines so that clients can find your site and have your URL in all your printed materials and on your E-mails.
DISCLAIMER: Some of the information in the Backstage area is provided by the persons or companies named on the relevant page(s). Laser F/X does NOT endorse or recommend any products/services and is NOT responsible for the technical accuracy of the information provided. We provide this information as a service to laserists using the Backstage area.
[ Introduction | Marketing | Finances ]