Laser F/X On-line Newsletter - Digest

October, November, December 1997
Items removed from the on-line Newsletter web pages during the fourth quarter of 1997.
NOTE: Links on destination sites are often changed. We provide the digest pages for archival purposes and the links to external sites were working when the material was originally published but may no longer be working.
---
---
What's New
New products and services of interest to lasersts. Submit your new product information and images in .gif or .jpg format to our E-mail or contact us.
---
Lexel Laser Updates ColorPro I
Improved Specifications at a New Low Price
FREMONT, Calif., August 11, 1997 -- Lexel Laser of Fremont, CA today announced the release of its improved 1Watt mixed gas system designed to run on single or three phase power. The reduction in size and energy consumption translates into a portable, less expensive unit for full colour scanning.
Engineering improvements include a compact, light weight switching power supply, beam divergence under 2.0 mrad, optional air cooling and variable magnet field adjust for custom tuned colour balance.
"One Watt of power and low divergence makes the redesigned ColorPro I ideal for AO shows, and the new low price gives our customers a reliable alternative to low-powered air cooled." said Mike Baker, program manager.
The Colour Pro I is compatible with industry standards and is available within 4 weeks of order. System Integrator pricing and detailed technical information are available through Lexel directly at 1.800.527.3795, or info@lexellaser.com
---
LIA PUBLISHES GUIDE TO MEDICAL LASER SAFETY
ORLANDO, Florida: The Laser Institute of America announces the publishing of the first edition of the LIA's Guide to Medical laser Safety.
Edited by Stephen Trokel, MD, the guide provides an overview for the 1996 ANSI Z136.3 Safe Use Of Lasers in Health care Facilities. Written in an easily understandable style, the guide is an excellent tool for training health care personnel. The guide covers medical laser safety, control measures, beam and non-beam hazards, laser-tissue interaction and patient education. The guide also includes easy to understand tables and diagrams. Prices at $15.99 US$ per copy, ($10,00 US$ for members of the LIA), the guide is an inexpensive and essential component to any medical laser safety program.
The guide is posted on the LIA website at http://www.laserinstitute.org
INFO: Laser Institute of America, 12424 Research Parkway, Suite 125, Orlando, Florida, USA. 32826. Tel: 800-32-laser or 407-380-1533
---
NEW CONTROLLER FROM LASER STUDIO
LASER STUDIO can now provide a professional front end (control Unit) for PANGOLIN USERS. These units are based on our highly renowned control systems being Magnum 'Q', Merlin 'Q' and the FX-Series, all offering a host of facilities and a powerful control environment. Existing PANGOLIN users will know that PANGOLIN software is an extremely powerful software tool offering users a host of control opportunities, however the system is PC based and can therefore be difficult to use for a "live" show or when set-up time is limited.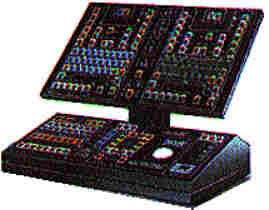 LASER STUDIOS new front end controllers (and 'PFE SOFTWARE) address these problems by giving the operator/programmer direct control of PANGOLIN ShowTime through the following functions:
The LS control unit can scroll through the whole ShowTime file. A single frame or number of frames can then be stored on 1 off the 180 'scene' keys. This is achieved by storing a "start frame/End frame" direct from the control unit. We now call this a 'PFE EFFECT'.
For each 'PFE EFFECT' we now have control (Via trackball) of:
Position
Amplitude
Rotation
Speed of frame
For each 'PFE EFFECT' we can also add or change:
Colour (single or strobe)
Modulation (i.e. Ramp,roll,flip, single shot etc)
Each 'PFE EFFECT' can also be run forward or in reverse with the operator having direct control of the speed.
With the LS control unit the operator can also program up to 10 sequencers/chasers with 'PFE Effects' (up to 100 steps per sequence). These can then be run as auto or audio chases
·In addition to the above, the LS control unit can load up to 10 'Pangolin shows' together with their 'PFE EFFECT' file (loading takes about 1 second) and then each show can be started from the desk (together with the soundtrack CD).
All of our controllers also have the following on-board external functions:
Time code control (E.G. from BSC etc)
Live recording and playback from a "DAT" or audio cassette.
S/L control (o dB)
PFE SOFTWARE gives you direct keyboard control of the desk (and therefore PANGOLIN) from the screen (Mouse), The computer keyboard (which simulates the controller keyboard) and desk. All keyboards are interactive.
With this powerful and versatile system you can leave your pangolin computer and monitor safely in its flight case and have a truly interactive front end.
IMPORTANT NOTE: THIS PRODUCT CAN ONLY BE USED WITH REGISTERED COPIES OF PANGOLIN SOFTWARE- Available from your Pangolin Dealer.
INFO: http://dspace.dial.pipex.com/laser-studio/
---
---
World Scan
Laser display happenings from around the world. If you would like your show or installation information here, please E-mail to our E-mail or contact us.
---
UK bans dangerous laser pointers
Department of Trade and Industry - Press Notice
1 Victoria Street, London SW1H 0ET, fax 0171-222 4382
28 October 1997
Consumer Affairs Minister, Nigel Griffiths, today acted swiftly and urged Trading Standards Departments throughout the country to remove from sale potentially dangerous laser pointers.
Mr. Griffiths' action follows an analysis by Herriot-Watt University which found that laser pointers, tested over the last few days, failed safety regulations.
Mr. Griffiths said: "I have today urged Trading Standards Departments to remove from sale to the general public all laser pointers not meeting safety regulations. I am determined that potentially dangerous products such as these laser pointers should be removed as quickly as possible."
"Let nobody be in any doubt that where I see breaches in consumer safety legislation I will act promptly. As far as I am concerned consumer safety is paramount." Mr Griffiths action follows this morning's findings by Herriot-Watt University that some laser products could cause injury.
Mr Griffiths' action follows a series of incidents involving the misuse of laser pointers.
Mr Griffiths said: "I am appalled by these recent incidents which have been the result of misuse of laser pointers. My action today will help stop a repeat of such incidents."
Class 1 and 2 laser pointers, as specified in the European and international safety standards, continue to meet safety requirements and are still available and safe for use by the general public.
Notes
1. Requests for the Herriot-Watt University Report, "Report on the Optical Safety of Laser Pointers" should be directed to the University.
2. The Herriot-Watt University test results showed that 14 out of 17 models of laser pointers failed.
3. The Minister has today taken action under the provisions of the General Product Safety Regulations 1994. BS EN 60825 part 1: 1994 - Safety of Laser Products (equipment classification, requirements and users guide) specifies those laser (pointers) which should only be used by trained operators and therefore not suitable for use by the general public.
---
US Military Fires Laser at Satellite
Monday October 20 3:32 PM EDT - By Charles Aldinger
WASHINGTON (Reuters) - The U.S. military has fired a powerful ground-based laser at an Air Force satellite in a test to measure the vulnerability of American satellites to laser attack, the Defence Department said on Monday.
Army Col. Richard Bridges, a Pentagon spokesman, said the results of Friday's test -- in which the Army's "Miracl" laser based at White Sands, New Mexico, was fired successfully at an ageing satellite -- were still being determined.
Bridges said two powerful light beams, the first of less than one second duration and the second about 10 seconds, were fired from the "Miracl" laser at the orbiting satellite on Friday night, U.S. Mountain Daylight Time.
"It was illuminated by the laser. The results are still being studied," Bridges told Reuters of the first such firing of a U.S. laser at a satellite.
Defence Secretary William Cohen on Oct. 2 approved a plan to use the Mid-Infra-Red Advanced Chemical Laser (Miracl) at White Sands to illuminate the satellite. The test had been delayed several times by cloudy weather before Friday's shot.
The Pentagon has repeatedly said the "illumination" of the satellite by potentially destructive beams of light would not violate any treaties and was not an attempt to build a satellite killer weapon. Instead, the department said, it was an attempt to measure whether a laser beam could damage the satellite's ability to operate.
Miracl produces a beam of light six feet across using millions of watts from burning fuel. An extended beam of light from the laser would be capable of burning up a target.
The laser's target was the U.S. Air Force Miniature Sensor Technology Integration program's third satellite, which according to the Pentagon has exceeded its useful lifetime.
The U.S. Army has test fired lasers at missiles and other objects in test flights before, but has never tested them against a satellite.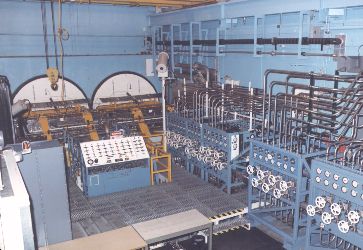 Miracl laser
---
European safety guidelines needed for laser shows
Wednesday 4 June, 1997
Representatives of the entertainment laser industry across Europe are predicting that members of the public will be at risk if the demand for laser displays to celebrate the Millennium outstrips the supply of companies who know how to operate safely, according to an opinion piece to be published in the June issue of the Institute of Physics' magazine Opto & Laser Europe.
The UK's Health & Safety Executive recently issued a guidance note on the safe operation of laser displays. The note says that operators must assess and eliminate potential hazards. These include effects such as `audience scanning' when the laser beam shines into people's faces above the maximum permissible exposure.
The laser display industry in the UK has operated for 25 years without any recorded injury to a member of the public but Paul Tozer, Technical Safety Officer of the recently formed Entertainment Laser Association (ELA), points out that some countries ban effects such as `audience scanning' which can drive the safety issue underground and encourage `cowboy' operators.
The ELA wants agreement across Europe on training and codes of practice for laser shows and advises that organisers of Millennium celebrations should choose a member of the ELA to put on their laser display.
---
Review - The Antari 120 Fogger
by O. Stephen Roberts - osteven@en.com
Power consumption: 700 watts
Medium: Aquasmog
Cost: 199.00 US plus tax, came out to 211.49 OTD
Size:350 X 130 X 160 mm
Weight:4.5 kg empty
Timer/Density Controller: nope
Remote: 50 foot cord with ready led and pushbutton terminated by 1/4" plug
Fluid Capacity: about 3/4 litre
comes with theatrical type swivel mounting bracket but no clamp.
I needed a fogger. I have no budget to speak of else I'd buy a MDG.Went to the local magic/costume and clowning shop to buy a magazine. Spotted this puppy on the shelf. Checked around in a few places, everywhere its $199.95.
Bought it. Brought it home and filled it up. Started stopwatch, ready light came on in 6 minutes, book said should be in 4 minutes. Held down the button, 2 minutes of steady fog, with NO smell of burnt glycol, almost odourless dense white fog. thermostat clicked, ready light went out. 2 Minutes later, ready for another 2 minute burst. Ok, it sputters out a .25 sec burst of fog about every minute and a half at idle, but you wouldn't notice it unless your right by the machine.
Is it what I'd use in a major install, heck no, but for a small "endless tour" like mine, its good. Fogged up a oversize 2 car garage with 12 foot ceilings to Mark Schweter Density (i.e. you cant see your hand in front of your face) with one 25 second burst. When its not emitting fog, its silent, when it is emitting fog it tends to make a periodic sputtering noise and a loud hiss.
Amount of cold fluid spit out was barely detectable on the floor after 15 minutes of use. Tends to run on a little after a long burst, but so does Mats F100 Professional model. Mechanical quality is good, heavy sheet metal case well painted with epoxy paint. Pump and heater chamber are also quite well made.
If you need a backup machine or a filler machine or a school gym machine, this is it. Plus since the control interface is a simple 1/4" stereo plug, its adaptable to a variety of control schemes, such as used Genie garage door remotes etc.
---
Laservision Wins Export Award and appoints new GM
Laservision Wins National Export Award
In a glittering ceremony for the inaugural Business Star Awards at Sydney's Darling Harbour Convention Centre last month officiated by The Hon. Peter Reith, Federal Minister for Workplace Relations and Small Business, Laservision Australia took honours winning the 1997 Business Stars Export Award. Sponsored by GIO Insurance and supported by the Department of Science Industry and Tourism, Laservision were selected from 9 finalists in the export category and from 400 entries overall.
Commenting on Laservision's National Business Bulletin award Hon. Peter Reith said, "I was delighted to present the award to Laservision Australia as winner of the 1997 Business Stars Export Award and I sincerely congratulate the company and all of its staff on what is a commendable achievement." He continues, "Laservision has demonstrated its ability to accept the challenge of exporting and will reap the benefits from exporting a quality product." "The initiative shown by Laservision will provide a commendable example to other businesses considering the option of exporting."
Responding to the award Paul McCloskey Managing Director says, "The recognition of the company in this way acknowledges a great year for the Laservision team. I wish to congratulate them for their superb efforts in achieving this high level of performance."
In addition to the company's growing international prominence as a multi-million dollar themed attractions developer, Laservision have continued to dominate the specialised corporate theatre, and special events industry niche in Australia, from discrete corporate events to dynamic public spectaculars.
The technology is Australian invented and developed. The company's innovative control system is the computerised brain behind the razzle-dazzle the audience enjoys. It synchronises laser animation and effects, intelligent lighting, fountains, water screens, pyrotechnics, video & film projections to digital surround sound. Holding several international patents Laservision R&D continues to improve the company's technology, maintaining their industry leading position.
Laservision's acclaimed business practice has attracted consistent recognition and has been rewarded with a series of prestigious Australian and International Business Awards. The company is numbered among Australia's fastest growing companies having recorded a compound annual growth rate of 55% over the last five financial years and is recognised as an outstanding entrepreneurial enterprise.
Current holder of both the New South Wales and National "Australian Small Business Entrepreneur of the Year Award", Laservision represented Australia at the International Entrepreneurs Forum in the United States last year.
Over three consecutive years Laservision has gained recognition in the NSW Small Business Awards, as a top "Service Enterprise" in 1994, a leading "Manufacturing Enterprise" in 1995, and one of the states top Enterprises with less than 50 employees this year. These awards were given in recognition of achievement, innovation, excellence and dedication to service and quality manufacturing.
Laservision was one of six finalists in the 1997 International Business Asia Awards, nominated for "Best Use of Australian Technology in Asia". The company was also a finalist in the 1996 NSW Institute of Export Awards.
Laservision's 20 Sydney employees drive this creative powerhouse and strive to succeed at the cutting edge of the international Multi-Display-Media entertainment industry. Annual turnover has grown to around $15 million AU$ with export business now contributing over 90%.
With Laservision's sights set on the Asia Pacific region and with a strategy to increase the company's market share in this rapidly growing region, the company has over the last 6 years successfully expanded into Thailand, China, Indonesia, Korea, Malaysia, India and Singapore.
Laservision recently participated in the Asian Amusements & International Theme Parks Expo '97 at the World Trade Centre in Singapore. This event is Asia's largest leisure and entertainment exhibition and the only exhibition of its kind in Asia with 150 speciality companies participating including 5 companies with a laser display background.
Laservision have extended its international marketing effort to the Internet. The website address is http://www.laservision.com.au Information is provided about their innovative technology, products and services covering: Special Events Spectaculars; Laser Advertising; and the Themed Attractions Industries world-wide.
General Manager Appointed by Laservision
Mr Brett Starkey, affectionately known as "Barney" in the Attractions, Laser presentations and special events industry, has been appointed General Manager of Laservision Australia after ten years with the company.
Commenting on Mr Starkey's appointment Managing Director and Laservision's founder Paul McCloskey says, "The company has grown rapidly over the past ten years, Brett's expertise has been a major contributor to that growth. He has successfully produced thousands of Laservision presentations in over 20 countries during his decade with the company. "Brett Starkey has most recently been managing Laservision's largest and busiest production department, a role in which he has demonstrated front line skills for rapid and effective decision making and dedication to quality service. With strategic restructuring under way, Brett now takes over company administration, I will devote more time exploring and developing new presentation technologies
---
Laser Show Industry Loses A Pioneer
Friday, 15 Aug 1997: Fred Fenning, co-founder of Image Engineering Corp. and inventor of the DV series of Digital Video storage devices (among countless other ground-breaking products) has died in a private plane crash.
His single engine craft suffered an engine failure from which he could not recover. He was alone on an annual cross-country trip. His body was found yesterday.
Two fisherman reported a plane going down in a large dammed area of the Missouri river in South Dakota. This man-made lake is deep, cold, and littered with trees along the bottom. The plane hit the water and flipped over. The fishermen raced to the scene but by the time they crossed the lake, there was no sign of wreckage not survivors.
Scott Blake initiated a search that involved several agencies and a host of Fred's friends from the Grumman owners club. The report of the downed plane was initially dismissed as being too far off his flight plan. Eventually, it was determined that the story might be relating to Fred, and a search of the lake was already underway. Sonar failed to reveal the plane (it has still not been recovered)
Fred's body surfaced yesterday August 14th at 5PM. The current assessment indicates that he had climbed out of the cockpit and climbed aboard the belly of the aircraft. He removed some of his clothing and started for shore as the plane sank, but the cold water (45 deg. F) caused him to pass out and drown.
Funeral Arrangements:
Date: Saturday, August 23rd
Address: St. Patricks Church, 9 Leroy St, Binghamton, N.Y.
People looking for a family address can send condolences to:
Dr. Frederick Fenning
55 Front St.
Binghamton, N.Y. 13905
Image Engineering Corp. extends it's deepest sympathy to Fred's family and friends. He was a tremendous Entrepreneur, Engineer, and Great Human Being. He will be missed terribly.
---
ILDA issues position paper on Lasers in Airspace
Tuesday, 21 Aug 1997: The International Laser Display Association [ILDA], today issued a document entitled "International Laser Display Association Position Statement Regarding Laser and Bright Light Illuminations in Airspace". The issue has attracted a lot of attention recently. The position paper reads as follows:
INTRODUCTION
The International Laser Display Association (ILDA) is an association for laser display manufacturers, laser artists, and laser display users. Founded in 1986, it is a truly international organisation with the goals of promoting professionalism, artistry, and safety in the laser display community.
The use of bright light projections such as lasers and spotlights in airspace is a long-established method of architectural and entertainment lighting. Spotlights became widely used commercially after World War II, and outdoor lasers have been used since the mid-1970's. These projections are commonly used to enhance the public's appreciation of many events and permanent attractions: major sporting events, most theme parks, movie premieres, corporate sales events, and festivals.
ILDA and its members are committed to the production of safe displays. We believe that the responsibility for safety lies both with ourselves as producers to use effective control measures, and with the aviation industry to train pilots to react appropriately to any form of bright light illumination.
ILDA recognises the concern voiced by various pilot organisations about incidents where light from lasers has illuminated cockpits. Since 1994, we have worked closely with the FAA (The Federal Aviation Administration, a U. S. Government Agency) advisory group "SAE G-10". We support the "consensus" standard which the G-10, a panel of experts involved in both flight safety and laser safety have created.
BASIC PRINCIPLES OF ILDA's POSITION
These are the principles that guide our recommendations:
- The current problem is one of too-bright lights in the cockpit.
Pilots have been distracted or even temporarily flash-blinded, with effects like those from a camera flash. There is no harm to the pilots' eyes or skin, but there may be the possibility of disorienting a pilot during critical phases of flight (takeoff, landing or emergency procedures).
The problem is NOT one of unsafe light levels for eyes or skin of the pilot or passengers. Light show lasers are relatively weak and cannot harm eyes or skin beyond a few hundred yards from the laser. These lasers are not the Hollywood "Death Rays" seen in the movies, but simply bright sources of light. Further, stringent FDA (Food and Drug Administration, a U. S. Government Agency) and FAA regulations require detailed hazard analysis prior to operation to be sure that there is no direct hazard to pilots or passengers. The physiological effect of a laser display is comparable to all other forms of bright light projection. Claims of injury to date have proven false, and are unsupported by the wealth of laser safety research over the last 20 years.
- ILDA opposes anyone seeking to ban laser displays for specific airspace.
Laser displays have a legal right to share airspace with other commercial users of airspace such as airlines, academic and scientific laser users, spotlights, and bright architectural lighting.
A ban on laser displays will not solve the problem. There will still be other laser (scientific) and spotlight sources in airspace. Further, ILDA maintains that virtually any laser can be operated at any location, provided that proper control measures are in place to avoid aircraft exposure above the levels described in the FAA 7400.2.
- All bright light sources should be considered when setting policy.
It is irresponsible to focus only on legal, varianced laser displays, when incidents have also come from non-display sources. Legal shows are subject to stringent FDA and FAA rules (In the U. S.), so these are easy to monitor. What is disturbing are the incidents which came from unknown sources, and which cannot be effectively supervised. Even if all laser shows were shut down, these incidents still would have occurred.
- It is impossible to completely control all laser and bright light sources.
There is always the chance of an accidental -- or deliberate -- illumination of an aircraft. Therefore, it is important that pilots be aware of what to do if a flash of lightning, a spotlight, or a laser illuminates them. Trained pilots can handle the problem; for example, helicopter pilots have flown repeatedly into a laser beam for study purposes.
ILDA RECOMMENDATIONS
- The one action that will most increase safety is pilot education.
ILDA strongly recommends that the FAA should train pilots in the simple techniques of handling a bright light illumination (These techniques include: do not look at the source, do not panic, know that vision will recover, go around if necessary until vision recovers). Training can be done in a simulator during normal re-certification training, using a conventional light source and only one or two exposures. The FAA must act responsibly and provide proper "Recognise and Recover" training.
Alternatively, if FAA feels the problem does not justify the cost of using the simulator, pilots should review a videotape as a condition of ongoing education. The script for such a videotape has already been written and endorsed by the SAE G-10 committee; it merely awaits production.
- ILDA encourages FDA and FAA to require use of a "Spotter's Handbook" for laser display operators.
This would provide recommended practices for any laser site where aircraft observers are used as a safety measure. Another possibility would be to use ANSI Z136.6 "Safe Use of Lasers in an Outdoor Environment" (currently in draft form). A recent Air Force study has found that aircraft spotters are as reliable as a radar system, when used as a control measure for distances of less than 3 miles.
- ILDA believes that certain types of lasers may need to be regulated more heavily.
This includes YAG and copper-vapour lasers. These lasers' beams appear up to three times brighter than more traditional argon lasers, due to their more efficient colour. Therefore, pilots may be more affected than they would by an equivalent amount of argon laser light.
- FAA should upgrade its "7400.2" reporting guidelines so that they become rules, with the force of law. ILDA believes safety and fairness dictate that "7400.2" be enforceable upon all laser (including scientific use) and bright light users in airspace, not just laser display applications.
- ILDA agrees with the National Transportation Safety Board that FAA should conduct its long-planned simulator study. This will refine the current light levels as embodied in the FAA 7400.2 guidelines.
- Finally, ILDA encourages all parties to place this issue in proper context.
Bright light hazards are minimal compared with more serious problems facing the FAA and the aviation industry. There have been no accidents, injuries, or damage due to bright lights. With basic pilot training and with the improved procedures of FAA's 7400.2 guidelines, the situation can easily be handled.
Thank You
ILDA Board of Directors
APPENDIX
Laser Beams in Airspace: A Technical and Historical Perspective
Before 1995, the FAA guideline for laser displays allowed a laser beam to be projected into navigable airspace if it was "eye safe", that is, at or below power levels that could cause retinal damage: namely, 2.6mW/cm2(.0026W/cm2 ).
The underlying concept was this: the flying public should be protected from biologically injurious exposure according to the very same safety criteria used to protect the public on the ground.
From 1975- 1995, the FAA issued thousands of non-objection letters permitting outdoor laser shows using laser light sources whose power diminished to less than 2.6mW/cm2 (.0026W/cm2 ) beyond a few thousand feet from origin.
This regulation worked as intended. In fact, no eye or other injuries ever occurred as a result of any laser beam projected into airspace. However, during the last few years, there has been a proliferation of pilot-reported incidents ranging from distraction to temporary flash-blindness when laser beams have been projected directly into cockpits.
Now recognising the potential indirect hazard of laser beams in navigable airspace namely, the temporary visual impairment of a pilot, however brief the FAA working with the FDA issued new guidelines.
The new underlying concept is this: pilots should be protected from temporarily impairing and even distracting laser beam projections.
Accordingly, the FAA now objects to laser projections that produce momentary flash-blindness or even just "glare" in airspace proximate to airports when pilots and their craft are in sensitive and critical flight phases, respectively. Specifically, the power of laser projections permitted in such airspace is now reduced from 2.6mW/cm2 (.0026W/cm2 ) to 100uW/cm2 (.0001 W/cm2) and 5uW/cm2 (.000005 W/cm2), respectively. To put these numbers into a familiar perspective: sunlight incident on a cockpit during daytime flight is approximately 1mW/cm2 (.001W/cm2).
These new and restrictive guidelines reduce the potential perceived brightness from a laser beam (accidentally projected into a cockpit) to brightness levels comparable to background light sources.
For more information please contact:
The International Laser Display Association (ILDA)
Executive Director: Linda Hare
4301 32nd Street West, Suite E-8,
Bradenton, Florida 34205, USA
Phone: (941) 758-6881 Fax: (941) 758-1605
E-Mail: ildadirect@aol.com
---
---
Ask Dr. Divergence
Dear Doctor,
I was just wondering who did the lasers for the recent Intel MMX commercials ? Did you get a MMX Pentium out of it? <grin>
Just curious, Richard Gonsalves
Dear Dr. Divergence
The laser in the MMX commercial was a YAG. The effect was provided by Image Engineering with Rick Campbell as the laser Producer. The distortions to the beams were phase conflicts between the scanner refresh rate the Q-switched laser and the exposure time of the film.
Now you Know

Chuck Collins - Freelance Laser Producer
---
DISCLAIMER: Some of the information in the Backstage area is provided by the persons or companies named on the relevant page(s). Laser F/X does NOT endorse or recommend any products/services and is NOT responsible for the technical accuracy of the information provided. We provide this information as a service to laserists using the Backstage area.
[ Introduction | World Scan | What's New | Special Reports | Virtual Visits | General Articles | Digest ]