Laser F/X On-line Newsletter - Special Reports

Urström at the 1999 Stockholm Water Festival
ANIMATED .gif FILES
The animated .gif files on this page were created by capturing still frames from a video tape of the show and then compiling them into animations. They are presented in black frames to give a better sense of the show. Special thanks to Adela Lopez-Bago for the use of her video equipment.
Palace Facade projections
These image projections took place over a span of several minutes with cross fades between each image. Here we present them as a series of stills. These photos were shot from the Opera side of the site (you can see one of the giant scrims over the water in the top right of the animated images).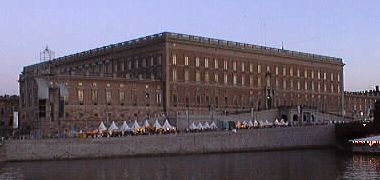 To get an idea of the scale of the images below, here is a photo of the Palace taken around sunset from a similar vantage point as the animation photos below.
Finale Beams
This is a very short animation loop showing the sky filled with beams as the woman appears over the water at the climax of the show.
Quick Links to Report Pages
Stockholm Water Festival Report - Introduction
Sweden and Stockholm - Background and general information
The Site - Orientation to the show area and the challenges it presented
The Crew - The people who put it all together
Tech Specs - The equipment used in the presentation
The Music - An interview with the composer and MP3 file of the soundtrack
Smoke on the water - Covering a lake with smoke for beam effects
The Show - A description with many pictures
Animated Gifs - Gifs showing Palace projections and climatic beam effects
Stadshuset - Stockholm City Hall tour (very large page)
Show Diary - Day-to-day coverage of the trials and triumphs
DISCLAIMER: Some of the information in the Backstage area is provided by the persons or companies named on the relevant page(s). Laser F/X does NOT endorse or recommend any products/services and is NOT responsible for the technical accuracy of the information provided. We provide this information as a service to laserists using the Backstage area.
[ Introduction | World Scan | What's New | Special Reports | Virtual Visits | General Articles | Digest ]